Chargement en cours...
100% Secure Booking, Best Rates Guaranteed, Instant Confirmation









Your Comfort, Our Services
The House of Stars, Gîtes at Noailhac
La Maison des Etoiles welcomes you to its three cottages throughout the year, with family or friends. Come and relax in an exceptional setting overlooking
Turenne,
nature as far as the eye can see and close to
Collonges la Rouge
.

Some ideas to prepare your program:
Put on the walking shoes to discover the miles of hiking trails ...
Browse the streets of three of the most beautiful villages in France ( Collonges la Rouge, Turenne, Curemonte ) in the same day and take the time to taste the local gastronomy in one of the many restaurants in the country ...
Walk along the Dordogne , or canoe on top of it, enjoy a descent into the extraordinary underworld of the Padirac chasm and fly like eagles over the Rocamadour sanctuary ...
Discover the Romanesque abbey of Aubazine , admire the stained glass windows that inspired Coco Chanel, stroll along the Canal des Moines and climb to the Puy de Pauliac to admire the Corrèze and the Cantal mountains ...
By the way, take a refreshing dip in the lake of Coiroux in Aubazine, the pond of Honey in Beynat, or even closer, the lake of Causse in Chasteaux, famous place for its nautical base and appreciated spot of the national and world champions 'rowing…
Then come back to the House of Stars and rest on the panoramic terrace in the shade of the fig tree ...
Wait quietly for an aperitif and end the day by candlelit dinners under the stars!

The cottages are all independent, fully furnished and equipped for the comfort of all.
The total capacity is 24 beds, with duvets and pillows.
Lovers of this place, we try to plan everything to make your stay pleasant.
Do not hesitate to contact us if needed.
We like to see you leave with stars in your eyes!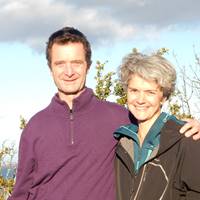 Gwénaëlle et Laurent LEPOUTRE
Our News
The Maison des Etoiles blows out its 5 candles
Exactly 5 years ago, we settled on this hill, very...
VALENTINE'S DAY WEEKEND: RELAXATION, WELL-BEING AND GATRONOMY
Did you dream of it? Here it is... Your tailor-mad...
Near us: Let's go on a treasure hunt in Noailhac
Do you want to discover a village, in a fun way an...